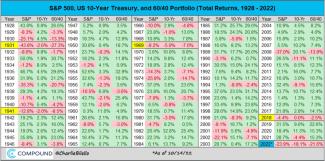 Preparing for What Is Coming Your Way
We are in the middle of a historic financial situation.  Take a moment and look at this chart.  Through mid October, stocks (S&P 500) AND bonds (10yr US Treasury) AND 60-40 allocation are negative.  The yellow indicates this is the 5th time it's happened since 1928.  A thoughtful follow up question is, which of those 5 is worst?      
As soon as you realize we are in the middle of the worst one, and all three are significantly double digit negative, your next question could/might/should be, what can you do to prepare and protect the most important financial goals for you and your family.  If you're not concerned, no need to do anything.  If you are concerned, contact Thoughtful Advisors to have a thoughtful conversation about strategies and tactics to prepare and protect yourself and your family.